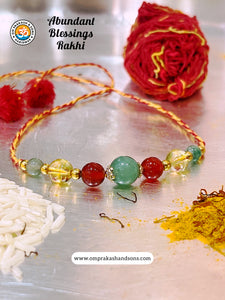 Celebrate the cherished bond between siblings with our exquisite Abundant Blessings Rakhi, crafted to convey your heartfelt wishes of abundance, positivity, and prosperity. This rakhi design beautifully combines the energies of three powerful gemstones: Aventurine, Citrine, and Carnelian, each holding a unique significance that aligns with the essence of the festival of Rakshabandhan.
Aventurine: Nurturing Harmony.
Aventurine's calming energies resonate with the soothing bond between siblings, promoting positivity and good fortune.
Citrine: Igniting Success.
Symbolizing prosperity, Citrine empowers wearers with confidence and motivation, mirroring the unwavering support siblings provide.
Carnelian: Fueling Passion.
Carnelian's vibrant energy signifies the shared vitality of siblings, enhancing creativity and determination.
Gift our Abundant Blessings Rakhi as a wish for your sibling's journey filled with positivity, success, and joy. Let these gemstones embody your unbreakable bond, enveloping your sibling in an aura of abundance and happiness.
Celebrate Rakshabandhan with intention and meaning. With Aventurine's harmony, Citrine's success, and Carnelian's passion, this rakhi is a heartfelt celebration of your cherished connection.