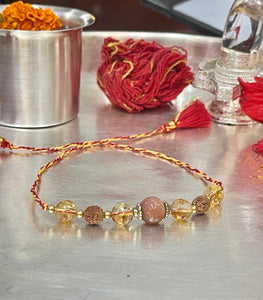 Ananda Sutra Rakhi: Infuse Joy into the Sibling Bond
Celebrate the joyous sibling connection with our Ananda Sutra Rakhi, meticulously designed to elegantly blend Citrine's success energy, Sunstone's luminosity, and the sacred Rudraksha bead's spiritual essence. This rakhi beautifully encapsulates shared laughter, unwavering support, and an aspiration for abundant moments. As the threads intertwine, it echoes shared memories transforming into cherished treasures. Each knot symbolizes more than the present; it represents the enduring happiness that thrives in each other's companionship.
Citrine: Radiate Success
Embrace the uplifting energy of Citrine, a gemstone that radiates success and positivity. Just as the sun's warm rays invigorate the world, Citrine empowers with confidence, amplifying the drive to achieve greatness. This Rakshabandhan, as you tie the Ananda Sutra Rakhi, let Citrine reflect the radiant success you wish for your sibling, igniting their path with accomplishments.
Sunstone: Illuminate Radiance
Experience the luminosity of Sunstone, a gem that illuminates life with positivity and light. Like the sun's rays, Sunstone instills vitality and a cheerful outlook. As you celebrate the bond during Rakshabandhan, let Sunstone mirror the vibrant radiance of shared moments, infusing them with an undeniable sparkle that transforms into cherished memories.
Rudraksha: Spiritual Connection
Invoke the spiritual essence of Rudraksha, a bead symbolizing deep-rooted connection and protection. Just as siblings safeguard each other's well-being, Rudraksha holds a sacred presence that nurtures spiritual connection. With each tie of the Ananda Sutra Rakhi, let Rudraksha remind you of the unwavering guardian role you both play, ensuring a journey of shared laughter and lasting happiness.
Celebrate Rakshabandhan with a profound intention of joy. With Citrine's success aura, Sunstone's illuminating radiance, and Rudraksha's spiritual touch, this rakhi is a heartfelt tribute to your shared laughter and lasting happiness, where every knot becomes a testament to the eternal joy and blessings you both bestow upon each other.