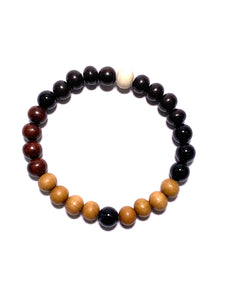 Connection with God bracelet is an expression of the surrendered heart filled with prayer, devotion, and gratitude. Brimming with wisdom and inspiration, this divine mala is made from single gemstone Black Onyx. Obsidian is said to be a very powerful stone, reminding one that birth & death are simultaneous & constantly present, not as one with the other, but always as one. Also, we have put all the sacred Indian woods in Connection With Gods Mala which represent all gods & goddesses. 
Sizes Available
X Small: 6.75 inches
Small: 7 inches
Medium: 7.25 inches
Large: 7.5 inches
X Large: 8 inches
Healing Properties
Connection with God bracelet includes the very powerful Ebony Wood (Goddes Kaali), Tulasi Wood / Holy basil (Krishna), Rosewood (Ganesha & Durga) & Sandalwood (Saraswati). The base is knotted a 3 Mukhi Rudraksha of Nepal Origin. It is one of the most powerful Rudraksha & represents the Trinity of Gods - Brahma, Vishnu & Mahesha (Shiva) i.e. the creator, the nurturer & the destroyer.
Chakra Healing: It protects Root and Third Eye chakra.

Gemstones Used: Black Onyx, Sandalwood, Rosewood, Ebony & Tulsi