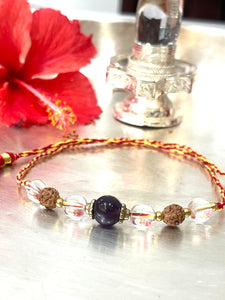 Guiding Light Rakhi: Illuminating Bonds
Introducing our Guiding Light Rakhi, a masterpiece where the energies of Clear Quartz's amplification and Amethyst's spiritual depth elegantly intertwine. This rakhi is more than a thread; it's a symbol of the profound understanding we share. With each tie, it becomes a beacon, illuminating the path through life's intricate journeys.
Amplification and Insight
Clear Quartz magnifies intentions and energies, just as it amplifies our connection. Amethyst's spiritual depth enhances intuition and insight, enabling us to navigate challenges with wisdom. As the Guiding Light Rakhi graces your sibling's wrist, it mirrors the deep understanding that resonates between both of you.
A Beacon of Strength
In the ebb and flow of life, the Guiding Light Rakhi stands as a beacon of strength. It guides us through both sunny days and stormy nights, reminding us that our bond is an unwavering source of solace. As you fasten the rakhi, may it symbolize not just a thread but the resilience that accompanies our connection.
Comfort and Protection
Each tie of the Guiding Light Rakhi envelops us in comfort and protection, echoing the guidance we offer one another. It's a tangible reminder that we are never alone on this journey. Just as Clear Quartz amplifies, and Amethyst deepens, our bond resonates with unwavering support, enveloping us in its reassuring embrace.
This Rakshabandhan, embrace the essence of guidance with the Guiding Light Rakhi. Let it symbolize the bond that shines through life's uncertainties. With Clear Quartz's amplification and Amethyst's spiritual depth, this rakhi is a radiant tribute to our connection, each tie a declaration of the strength and protection we bestow upon each other.