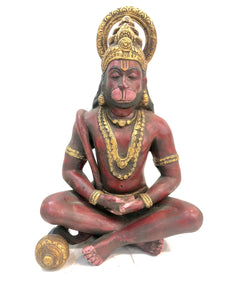 Specifications~Height: 12" inches/ Width: 8" inches 
Lord Hanuman is the epitome of sheer devotion, ultimate surrender, and a character minus ego. This entirely hand-crafted Panchdhatu sculpture 'Immersed So Deep' of Vayu Putra at home shall be an excellent addition to keep off negative energies, while also being a constant reminder for the residents of what they can do in their respective lives by becoming utter devotees of God, by aligning with the forces of good; uplifting the weak with poise, unconditional faith, and complete surrender. Lord Hanuman is an ocean of virtues and friend of the pure-hearted. So, if you think you possess the ascetic qualities the lord appreciates, here is 'He' to be by your side in a charismatic form and shape never seen before. 
Note: It should be either in the puja area or in the Southern direction, but in a sacred place.