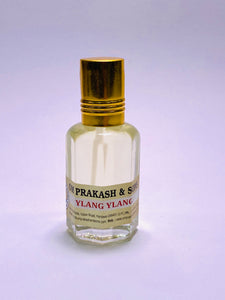 Ylang Ylang Essential Oil, pronounced "Ee-lang Ee-lang," receives its common name from the repetition of the Tagalog word "ilang," meaning "wilderness," The main chemical constituents of Ylang Ylang Essential Oil is Linalool, Geranyl acetate, Germacrene-D, beta-Caryophyllene, Benzyl acetate, Geraniol, Methyl p-Cresol, Methyl benzoate, Geranyl acetate, Farnasene, and Benzyl benzoate. Used in aromatherapy applications, Ylang Ylang Essential Oil soothes stress, anxiety, sadness, tension, and sleeplessness. Its aphrodisiac quality is reputed to boost the libido to enhance sensuality between a couple. When used for medical purposes, Ylang Ylang Essential Oil effectively facilitates the healing of wounds enhances the health of the nervous system, reduces the stress exerted on the nerves, balances blood pressure levels, and stabilizes the heart rate.

Uses:
1) Directly apply on the skin, simply use like a perfume.
2) It can be used for massage therapies. Many Ayurveda & acupuncture massage therapists use this by mixing it in olive oil or any other massage oil.
3) This can also be used in diffuser aromatherapy by adding few drops of oil in water. You can use it in an electric or candlelit diffuser.
4) This can also be used for an aromatic experience by applying it to your Mala beads.
Note: This is not an edible grade oil. Do not eat or consume